Winterfest and US Toboggan Nationals
Maine's Mardi Gras happens here! February 4 to February 12, 2017
Camden Winterfest 2017 is Maine's Mardi Gras with a week-long celebration of winter with outdoor and indoor activities, beginning with ice carving and the State of Maine Snow Sculpting Finals and culminating with the US Toboggan Nationals. It's a party with great music and great food!
In winter Camden Maine is blessed with bountiful and usually dependable snow. For the last several years we have averaged 80" of the white stuff…(almost 7 feet) and when Mother Nature takes a vacation, we fire up the snow making and create acres of fun.
For Winterfest,huge blocks of ice fill the village amphitheatre where teams of professionals and amateurs create amazing carvings...and you get to vote for the winners! Plus the Village Green will be center stage for the State of Maine Snow Sculpting Finals with some amazing creations.
Camden Snow Bowl is just 3 miles from the Inn, where downhill and x-country skiing, snowshoe trails, toboggan runs rule. Did we mention that you can see the ocean and the islands while skiing at the Snow Bowl? And it is also home to the US Toboggan Nationals, a three day event run every February. Watch as over 300 teams ... many in Mardi Gras costumes... compete for bragging rights! ESPN and Outside Magazine both rate this as a top New England event! Enjoy tailgating, music and lots of fun.
Here is a full schedule of planned events for Winterfest week!
Get out there and enjoy Winter! Then come back to Blackberry for a glass of wine or some hot mulled cider in front of the fire. Saturday night, plan to stay in and enjoy a multi course Gourmet Dinner with us here at the Inn . Mmm!
RESERVATIONS ARE LIMITED. Book now! 207 236 6060
CLICK ON PHOTO BELOW FOR VIDEO OF TOBOGGAN CHAMPIONSHIP!!!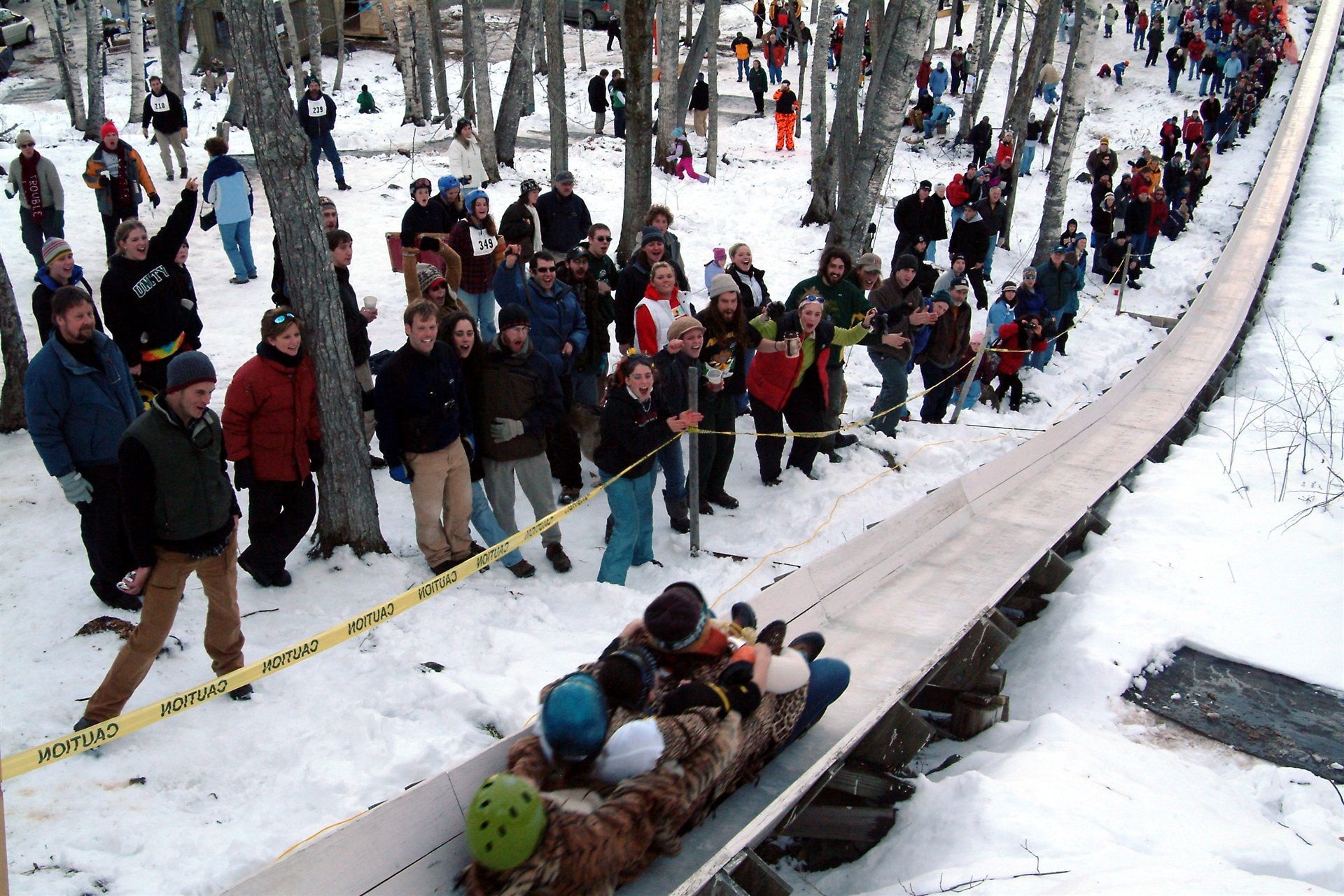 Day Trips
Here are suggestions on how to spend your vacation time in Camden and the surrounding area of Maine. There is so much to see and do that we believe you need a minimum of 4 days to experience all that Midcoast Maine offers. Here are a sample of day itineraries to help you plan your trip.
Day 1: A Romantic Evening in Camden
You are finally here! Check in to your room, get settled while enjoying some of our afternoon refreshments, enjoy a short tour of the inns & gardens...and perhaps even take a brief nap! Soon you will be refreshed and eager to walk two blocks into the center of Camden village. Surrounded by our spectacular harbor and shadowed under Mt. Battie, Camden is the quintessential New England village. Wander through the shops and down to the public landing to take a look at the historic schooners that fill the harbor. Chat with the boat captains about the weather...and decide whether to take a sunset sail tonight...or plan to board tomorrow. Restaurants along the water and throughout downtown have their menu's posted with tonight's specials tempting you! Walk back to the inn and enjoy a glass of wine (or the drink of the day) and your innkeepers will help you make dinner plans.
Day 2: Sail Aboard a Classic Maine Schooner
Rise and have a cup of our own blend of fresh roasted coffee (from Rock City Coffee Roasters, delivered every Thursday) while you wander the gardens. After you enjoy a great multi course breakfast on the patio, we will be happy to help you in booking passage on a schooner for a 2 hour or half day sail on Penobscot Bay. Try your hand at the helm or help hoist the sails and keep a lookout for bald eagles, harbor seals, and porpoises as you pass Curtis Island and its historic lighthouse. Be sure you have a windbreaker jacket and your camera! See Camden harbor and the coastline much the same as it was viewed by Capt. George Weymouth and his crew abroad the Archangel as they first sailed the bay in 1605.
Get your land legs back and walk along the "Most Beautiful Walk in the World", according to Yankee Magazine, from Camden past many historic homes and see our striped cows, the Belted Galloways, an open air chapel with views of Penobscot Bay and a spectacular woodland garden into the village of Rockport and the Rockport harbor. See the statue of Andre, the seal, and the limestone kiln remains. Return via our multi use pathway to the Inns at Blackberry Common and relax with fresh lemonade and a good book in the garden. Dinner tonight? Perhaps it's time for lobster! We'll send you off for a quiet drive to one of our favorite lobster pounds...nothing fancy...cove side with a great view and the best lobster ever!
Day 3: Hiking and Exploring in Midcoast Maine
If you are an early riser, it is a perfect time to stroll a few blocks to Merryspring Gardens to enjoy wandering through one of Maine's finest nature parks. After breakfast back at the Inn, it's a great time to explore Camden Hills State Park. Either hike or drive to the summit and enjoy the fabulous view that inspired Camden's own poet laureate, Edna St. Vincent Millay to write "Renaissance" and launch her career. A stunning view of islands dotting Penobscot Bay, overlooking Camden is yours to enjoy. There are over 30 miles of trails taking you from peak to peak, along the ridge tops, with ocean and mountain vistas. Need more of the outdoors? How about a kayak or canoe adventure with a Maine guide on a nearby lake or from Camden Harbor out to Curtis Island. Or, perhaps you'd like to bicycle along our quiet back roads and a carriage trail. Your innkeeper, Jim, is an avid bicyclist, and he'll help you with equipment, gear and route maps. Make dinner plans and perhaps a show at the Camden or Rockport Opera Houses or even an open-air movie in the Camden amphitheatre.
Day 4 : Lighthouse Tours By Land & Sea!
You just have to see the lighthouses! What would a trip to coastal Maine be without lighthouses! Within a short drive from the Inns at Blackberry Common are several lighthouses for you to enjoy. We'll pack you a picnic lunch and provide you with directions and binoculars! Don't forget your camera! Many can be seen along the water's edge, walk right to others on rocky cliffs or take a ferry to one of our islands to see the lighthouse and experience Maine island living.
Up for a bit more touring? How about a wineries tour and a wine tasting? Just a few miles inland are three award winning winemakers and distillers. Beautiful rolling hillsides and farmland boast working wineries that welcome visitors to tour the vineyards and enjoy learning about the winemaking process and the distilleries. In autumn, many of the wineries have festivals and special events for harvesting grapes.
Back to the Inn in time for dinner at one of the areas premier fine dining establishments. Just ask your innkeepers for recommendations and reservations.
Days 5, 6 & 7: More Adventures
There's still more to do! We haven't even mentioned picking blueberries ... a real Maine tradition! Or how about antiquing? Fly-fishing? Visits to world class museums! And, it's a wonderful day trip to head north and visit Acadia National Park for the day or take the ferry to Monhegan Island for a step back in time ... island life changed little in 100 years.
One visit to Camden and the Inns at Blackberry Common just isn't enough!
Come back again soon!
Lighthouses
Lighthouse lovers love the coast of Maine! With 14 of Maine's 68 lighthouses right here in Midcoast Maine, it's a lighthouse feast all year! There's something romantic and mysterious about lighthouses and they have a lure that spans centuries. Stories abound of heroic rescues, shipwrecks, ghosts and romantic legends. Most were built in the 1800's and many are still working beacons of light guiding ships safely through fog, storm and dark of night.
The lighthouses of Maine are now almost all fully automated and many are now privately owned. Others have been restored and include wonderful museums. In fact, the Maine Lighthouse Museum, right here in the Midcoast, boasts one of the largest collections of Fresnel lenses in the country. It is a must see for those who want to know of the histories of lighthouses.
Many of the areas lighthouses can be seen within a short drive. Several are open to the public or allow access to the grounds. Others can only be seen from the water as they are island or remote lights. We are happy to share our self-guided lighthouse driving tour with you! In fact, we have created several day trips for those guests who may want to explore lighthouses further up and down the coast. Or, climb aboard a Maine schooner or local lobster boat for a memorable tour of our island lighthouses.
Depending on the route, you will see up to 7 different lighthouses, which for more than 150 years have been guiding sailors in the Penobscot Bay. On each tour, you may also see some of the Maine coast's abundant wildlife - seals, porpoise, eagles and various sea birds.
Biking & Hiking
Rocky shorelines, quiet country byways and mountaintops with ocean views make Midcoast Maine a unique cycling vacation destination. Whether you prefer bicycling our uncrowded and driver friendly back roads or our challenging off road terrain, the Camden area has a cycling smorgasbord for you!

Your innkeeper, Jim, is an avid cyclist and knows the best rides in the area. Jim will send you off with route maps and recommend rides based on your skill and desires for a day's adventure. Relaxing country road rides of 3 to 5 miles with ocean views pedaling past our famed "oreo cookie" cows begin right at the Inn. For the more adventurous, rides of 25 to 100 miles give you all the challenge you desire!
Looking for a Maine bicycling vacation experience? We are proud to partner with Summerfeet Cycling , a Maine based company, hosting their guests on all inclusive coastal bicycling adventures.
Choose from several trips – each perfectly planned for your enjoyment. Ask us for details.
Excellent cycle shops are nearby. They are happy to help you with repairs, gear or quality touring bike or high end bicycle rentals. Group rides, organized by local clubs, are regularly scheduled throughout the season.
Want to take along a picnic? We're happy to pack one for you or to tell you about little places to stop for lunch along the way. And, don't forget your camera! Wherever you ride, you'll bring home memories of Maine!
Hiking & Walking
Midcoast Maine is a walkers and hikers paradise!
Whether you prefer a leisurely walk along treelined village streets to quiet coastal coves or an ambitious hike up the face of a rocky peak, Camden is the perfect location!

Within only a few blocks of the Inns At Blackberry Common you can be at the trailhead of a great hike leading you to the top of Mt. Battie in Camden Hills State Park . Whether you take this trail, or the more leisurely Nature Trail to the top, getting to the top of Mt. Battie is a MUST for any Camden vacation.
Camden Hills State Park has over 30 miles of trails including some with miles of ridge top paths with panoramic 360 degree views of mountains, lakes and Penobscot Bay dotted with islands.


The Georges River Land Trust offers thirty us miles of trails with rugged mountains, deep forests, quiet hills and glimpses of ocean.
Camden's Coastal Mountain Land Trust protects our farms, forests and water resources. They have conserved over 15,000 acres of land and much of this is available for hiking. The Inns At Blackberry Common are a member of the Trust and each year we get our organic blueberries from their blueberry barrens. If you are here during blueberry harvest time, it is an experience not to be missed. The lands they steward include mountains, coastal island, bogs, rivers and watersheds. Come, hike the trails, visit the newly restored Beech Hill hut and ask us how you can help with their efforts.
Yankee Magazine has deemed the walk from Rockport to Camden as "The Most Beautiful Walk In the World" and we believe it is! It is a wonderful walk along tree shaded village streets, country lanes past our "Oreo Cookie Cows" (Belted Galloways) and rocky scenic byways. It is lovely anytime of year…but spectacular in autumn's colors.
Let us help you plan several wonderful walks and hikes while you are here with us in Camden . Take a picnic lunch along…bring your camera…and we've got the binoculars and backpack set aside for you!
Water Sports
Water, water, everywhere! So many choices!
Maine has about 3,500 miles of coastline and over 4,000 lakes and ponds. Some of the loveliest coastal coves and jewel like lakes are right here in the Camden area!

From the Inn you can walk to Camden harbor and kayak. Daily adventures, under the leadership of a Maine guide, head out for Curtis Island where our resident Bald Eagles nest. Kayak adventures to the island bring visitors ashore to enjoy Curtis Island lighthouse and a picnic lunch. Keep a eye out for harbor seals along the way!

If you prefer a more remote adventure, you can canoe or kayak on one of our quiet lakes. Only a short drive from Blackberry, are dozens of lakes, some connected to each other, some totally uninhabited where you can see nature at its best. Loons, ducks, bald eagles, osprey … even an occasional moose … may be spotted.
We'll help you with rentals or tell you where to launch your canoe orkayak. Guided tours happen daily; weather permitting. And just a bit further from the inn, are kayaking adventures along the coastal habitat for native puffins. Whatever your comfort and skill level, there is an adventure you will not want to miss!
Picnic lunches are a favorite for guests heading out on an adventure. We're happy to pack one up for you!
Kayak rentals, guided tours and canoes are all available from June through October.
Let us help you plan a real Maine adventure you'll remember for a lifetime!
Sailing on Penobscot Bay on a historic Maine Schooner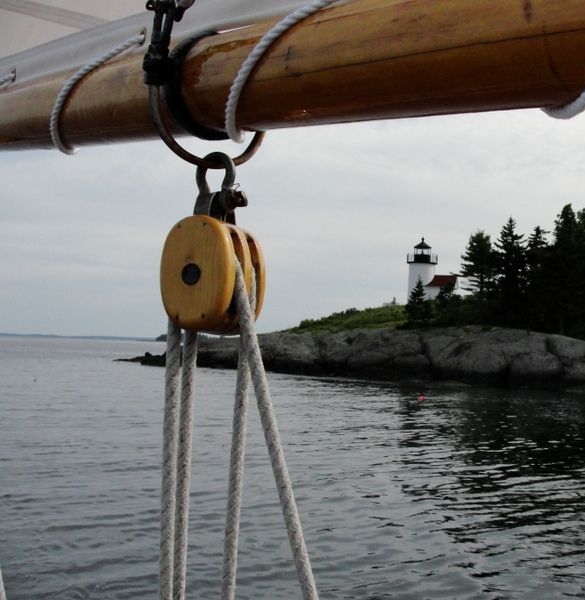 The waters of Penobscot Bay are known in the boating world as among the finest sailing waters on earth. We'd have to agree! And once you've stepped aboard a Maine historic schooner for a sail, it will be one of your fondest Maine vacation memories.
Camden harbor is home to several of the Maine windjammers and while in port, these impressive three and 4 masted ships lend a stately presence. Enjoy watching the supplies come on board for the 3 to 7 day excursions past islands, through channels and along the rocky coast. Passengers of the Mary Day, Angelique and Mercantile feast aboard ship, listen to sea shantys and try their hand at the helm or trimming the sheets! All who come back to the inn for a bit of pampering after their voyage share memories they'll take home and savor for a long time.

Midcoast Maine is also home to many Maine schooners that set sail daily for two hour or half day trips giving passengers a taste of the sea. It's a MUST do while in Camden ! Enjoy Schooner Surprise, with Captain Jack and his first mate Barbara, in their 25th season of sailing this beautifully restored 57 ft. schooner. The Appledore is the largest of the day sail vessels. Lazy Jack and Olad also set sail several times a day. Don't forget your camera! Leaving from Camden , you'll sail past Curtis Island where you will have a great opportunity to photograph Curtis Island Lighthouse. And, you might get a glimpse of our resident bald eagles or friendly harbor seals.
Nearby Rockport and Rockland harbors are home to other sailing schooners. Trips from these harbors will take you past Indian Island Lighthouse, or past the Rockland Breakwater Light and the Owl's Head light. Every harbor is different; every site a delight!
There's no better way to see the coast of Maine!
Wineries
Camden is on the Maine Wine Trail !
Maine is on the map! The wineries map that is! Now with 18 wineries in Maine and more on the way!
While you are staying with us, you will want to visit several of the finest Maine wineries and even an award winning distillery!
Just a short drive away, through the rolling hills and right along the coast and you can savor the fruit of the vine! It's a great day trip and we'll even pack you a picnic or suggest a couple of local eateries that are among our secret favorites!
Shopping
Shopping in Camden
Shop 'til you drop…or at least until you want to sit by the harbor and enjoy the view! From the front door of the Inns At Blackberry Common it is only about two blocks to the center of the village, where shops line both sides of Main Street and Bayview Street. Plus there are lots of great shops on the side streets, tucked away.

The joy of wandering in and out of the shops of downtown Camden is not only in the shops themselves, but in knowing that the harbor is just beyond that stack of Maine mugs or fine new windbreaker. Enjoying shopping here means mixing the experience with lunch overlooking the harbor and a shopping break to take a sail or enjoy the music in the amphitheatre. The quality of the shops speaks for itself, and there is something for every taste! Maine artisans' collaborative efforts are displayed in more than one shop and our shop owners, who live and work here year round, can offer you directions and information while you chat about your new purchase!
Beyond the downtown are galleries, furniture makers, glass blowing and potters. Antiques abound. And it is all unhurried. Part of the Maine experience is to slow down and enjoy the browsing. You'll find that perfect gift; that perfect memory of your trip.
Most shops are open year round, although many shop owners do take a "winter break" at some time during the quieter months. Even then, many antique dealers and artisans are happy to open their shops and studios by appointment.
Looking for something special? Just ask us. Your innkeepers are here to make your Camden vacation perfect in every way. Shopping … without the mall … what a concept!
Pampering & Spas
The Pampered Lifestyle
Is it time to slow down and pamper each other with an escape to Camden, Maine and the Inns at Blackberry Common? We are happy to arrange for special services to help you relax away your stress and help you unwind! Just a few doors down from the inn is the Wellness Center , a retreat for mind, body, and spirit. We can arrange massage appointments with our Licensed favorites for therapeutic, pre-natal, Swedish, neuromuscular, hot stone, and Thai massage therapy.

Also nearby is the Lily Pond Aquatic Center, offering aquatic integration, Watsu, and Water dance classes in their saline pool for relaxation and stress reduction and healing.
High Mountain Hall, www.highmountainhall.com, sits just four blocks away from the inn and offers the Beauty Mark Spa with Nail and Massage therapists ready to assist you, as well as regular classes in dance, yoga, and fitness.