The Inns
About these Camden Maine inns
What makes your stay at the Inns at Blackberry Common special? Some say it's the setting. These Camden Maine inns are right in the heart of town, just 3 blocks from the village and harbor, so you can park your car and take an easy stroll to the center of the village of Camden to enjoy a sail on a historic schooner or a kayak adventure or shop and enjoy the view of the Curtis Island lighthouse.. Uniquely surrounded by over an acre of Maine perennial gardens, the inn's setting always tempts guests to relax, read a good book, enjoy afternoon refreshments or cocktails in one of the quiet tranquil garden patches after a busy day.
Others say the B&B is so special because of the amazing original architecture of the restored inn buildings. Many a guest stops to marvel at the ornately painted tin ceilings and elaborate plaster moldings of the 1849 Victorian styled Blackberry building and its adjacent Carriage House; others appreciate the colonial authenticity of the 1806 Elms, right next door, with its wide planked floors and post and beams. Spacious common rooms in both are perfect for guests to gather to enjoy the warmth of the fireplace, a game of scrabble and lively conversation. (Hint: Ask the innkeepers about the secret panel!)
Still others rave about breakfast at the B&B. The aroma of our own blend of freshly roasted coffee greets early risers, who often join Chef Jim in the garden harvesting fresh herbs and blackberries for the morning's entrees. It's a special time of day when guests enjoy a multi course breakfast served on the garden patio or in the dining room. Fresh juice of the day, followed by a healthy starter course, like local honey sweetened yogurt topped with home-made granola, baked spiced pears or Blackberry's oatmeal with cranberries is just the right start. Entrees vary daily, changing from a sweet to a savory, as Chef Jim creates his specialties of the house, like blackberry sage French toast, or garden vegetable fritattas. Breakfast is also the perfect time for your innkeepers to help you plan your day's adventure. We'll even pack you a great picnic lunch!
Guests return to enjoy the special gourmet dinners, wine tasting events and culinary classes hosted throughout the year at the Inns. Begun at the request of our guests, these exclusive guest events have grown to now be some of our most popular weekends! In fact, author Joe David chose the Inns for his 2009 new book: Gourmet Getaways: The Top 50 spots to Cook and Learn.
Your innkeeper hosts, Jim & Cyndi Ostrowski, are at home at the Inn and welcome you to come and share this magically place. The staff is eager to assist in every way. From helping you select just the right room, to dinner reservations, maps, trails and hidden treasures, our staff will help you plan the perfect Maine vacation. What really makes the Inns special is our guests! We want your stay with us to be the best possible. Plan now to create a special memory. We are especially happy to help you celebrate your wedding, anniversary, birthday, retirement or other occasion.
Start with a visit to our Special Packages page….then select just the right room … or just give us a call at 1-800-388-6000.
The Gardens
It's All About the Gardens
Our gardens, tucked round the inns, are a special place. They beckon guests and visitors to wander down paths lined with sweet scented lavender and to sit and relax amid the seasonal blooms.
Springtime brings the first burst of color with a wave of tulips across the front of the inns greeting passers-by and guests. Traditional lilacs, some decades old and sweetly scented soon follow as the gardens unfold. Colorful Adirondack chairs, freshly placed, are a perfect spot to enjoy the scene.
Summer is the peak garden season. Hollyhocks and delphiniums soar above the Maine perennials while oriental and calla lilies add a touch of elegance to the garden. Early morning finds Jim (and some early rising guests) in the herb garden harvesting fresh herbs for the day's breakfast to be served on the sun dappled patio amid the hostas.
Soon it will be blackberry time and our blackberry patch will be with lush fruit. The patch is a favorite haunt for guests relaxing with lemon aid or spiced iced tea after a day's adventure!
Fall transforms the garden to a golden hue while Maine asters and mums bring another colorful splash. Colors linger late into October when it's time for planting and a final harvest. The sage and lavender are snipped and tucked away for a lovely scented touch.
Eco-Friendly
We Are a Maine Environmental Leader
We are very proud to announce that the Inns have been certified as Environmental Leaders in Hospitality by the Department of Environmental Protection for the State of Maine. Due to our "green" efforts, we are one of fewer than 100 businesses in the state that have received this certification, and we continue to improve and expand our program every day!

Going Green has always been a core value here at the inns. Living in Maine, where every day you are close to the beauty and bounty of nature, has really made us strive to do our part to preserve our natural resources and our planet. We are always making improvements, and welcome your suggestions and input. While you are here as our guests, we are happy to help you with recyclables and any other "green" practices you keep toward improving our environment!
Going Green at the Inns... every little bit counts!
Here are some of the things we currently do at the Inns to play our part:
Daily trips to the recycling center with glass, boxes, paper, plastics and more. If you have items you would like us to include while you are in our company, please pass them to any employee or leave them in your rooms and we will add to our next trip!
Composting many of our "scraps" from the kitchen and used in our many gardens!
It seems we are always doing laundry, and for that reason, have upgraded to energy efficient, low water and soap usage washing machines. And of course environmentally friendly products! As a guest, you are invited to work with us in this conservation effort. By hanging your towels for another use helps minimize daily laundry. We are always happy to supply fresh towels and linens!
Lighting is kept at a minimum when possible, as is heat when we do not have guests in our company, and you will notice the use of our fireplaces and wood stove to warm your rooms and our parlors. Wherever possible, we use low wattage, low voltage and CFC light bulbs. In addition, many of the windows in the Blackberry Inn were replaced with new double pane "E" glass to conserve heat.
While we are not a recognized organic grower, we do not use any pesticides or chemicals in our flower, herb or vegetable gardens. Our berry patch is from root stock that is over 50 years old! Many of these ingredients are used in our cooking, as are local ingredients from our neighbors, the local farm markets and other growers dedicated to the same environmental visions as we!
Changes are being made daily, and please share your suggestions while you are here as our guests, helping us do our part to conserve our planets and the beautiful resources around us!
Directions
How to Get Here
A local, with a little Maine Humor, would give you directions like this:
"They call it "DownEast" because when sailing back to Maine from southern New England ports like Boston or New York, you sailed down wind and east/northeast. It turns out, now that we have cars and planes, you still head the same way!
It's easy to get to Camden, Maine and you can have a lot fun getting here too!
Here's a map to help.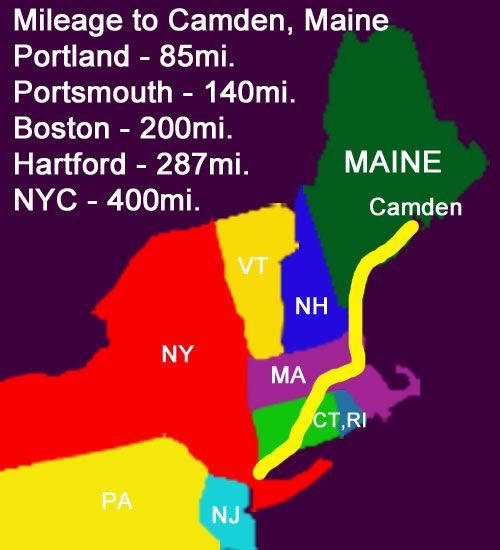 You can fly to New York, Boston, MA, Manchester, NH, Portland or even Rockland, Maine and drive the rest of it, stopping at all kinds of interesting sites along the way.
Or, you can just get on Rt. 95 which will take you from the New Hampshire/Maine border to Portland, Maine. Then take Rt. 295 through downtown Portland, and stay right on Rt. 295 to exit 28.
You can stop and shop in Freeport at L.L. Bean for all that outdoor gear you'll need for vacationing in Maine like everything for fishing, biking, hiking, canoeing, kayaking plus a whole lot of other stores just in case you have something else in mind too. (That's exit 20 for Freeport.)
Well, when you get back on Rt. 295 from shopping in Freeport, going North still remember, take exit 28 at Brunswick and drive right up Rt. 1 through Brunswick, Wisscassett and Waldoboro.
Now, you've got your choice - stay right on Rt. 1 through Warren, Thomaston, Rockland and Rockport right into Camden The Inns are on the right going down the hill into town.
Or, in Warren, take a left on Rt. 90 and follow it right up to Rockport to save a few minutes. Turn left back onto Rt. 1 going North and when you come into Camden, the Inns are on the right, going down the hill into town. That's Elm street, you know. The Inns are at #82..
Just in case, there's one of those new fangled Google maps just below and they'll give you directions from your door to ours for free! Can you believe it?
There's also a story below on ways to have fun getting to the Inns at Blackberry Common in Camden, Maine and some ideas on what to do once you get here. Some good! Ayuh!"